Accurate weather forecasting is an essential tool of modern society, which brings benefit to people's safety and livelihoods, along with country-wide economic development and prosperity. The GCRF African Science for Weather Information and Forecasting Techniques (GCRF African-SWIFT) programme is developing new, sustainable African weather forecasting capability, to enhance the livelihood of African populations and improve the economies of their countries.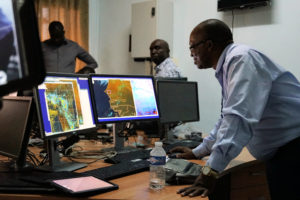 The UK benefits from some of the best forecasting in the world and the UK Met Office is estimated to bring £3 billion of benefit to the UK economy every year. In Africa, the impacts of weather are much higher due to the severity of weather extremes such as storms, droughts and floods, and to the vulnerability of impoverished people. Comparable benefits to those seen in the UK are not yet possible in Africa without significant improvements in the skill and capability of the forecasts.
Funded by the Global Challenges Research Fund the African SWIFT programme aims to create the infrastructure for improved African weather forecasts, with its team of more than 100 UK and African atmospheric scientists, social scientists and operational forecasters. The team is undertaking fundamental scientific research into the physics of tropical weather systems; evaluation and presentation of complex model and satellite data; and communication and exploitation of forecasts.